The Palisade International Honeybee Festival is a non-profit organization. The festival was created by a group of business owners in Palisade, Colorado wanting to gather the community in celebration of its agricultural roots and to bring attention to the threatened honeybee
population.  The event is the brain child of former resident and beekeeper, Tina Darrah, and Marla Wood, original owner of The Blue Pig Gallery.
The Palisade International Honeybee Festival (PIHF) is a community driven festival created in 2008 to educate the public about the world-wide crisis on colony collapse and to support of a healthy honeybee population worldwide and its impact on agriculture in the Grand Valley, Colorado and the world.
The PIHF brings awareness to the honeybee crisis through education and the arts. Our goal is to increase public awareness of the impact of bees on our food sources and the wide range of  benefits of bee products.
We strive to have Palisade's fruit and wine industries represent our mission as a thriving agricultural community and work with artists and artisans – from chefs to sculptors – to achieve our goals.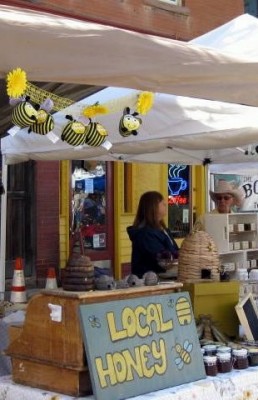 We are calling this event an "International" festival because the crisis has international implications. We also hope to bring together bee keepers, agricultural experts and artists to Palisade from around the globe.
Local Business PIHF Founders